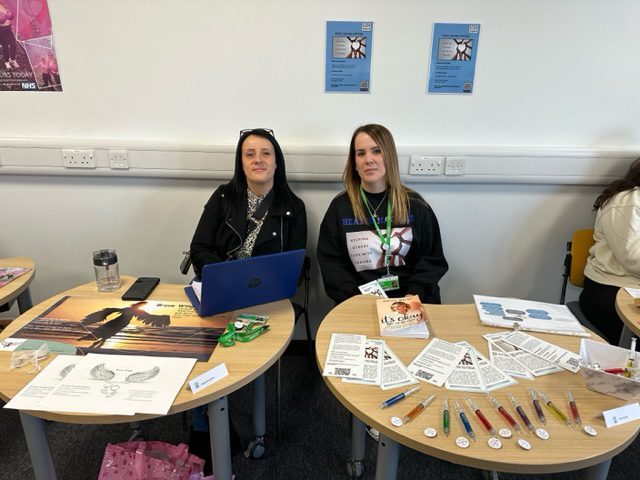 University Campus North Lincolnshire (UCNL) Health and Social Care students have impressed local health organisations after their recent symposium. 
Fifty-seven first year Health and Social Care students were tasked with creating a health intervention as an assessment for their Health Promotion Module. The Level 4 cohort did not disappoint and created some highly innovative interventions and creative campaigns that could affect positive behaviour change in their chosen societal groups. 
The topics selected by the students included important messages that could affect anyone and some of the messages delivered were personally important to the student who researched the topic and delivered with passionate and enthusiasm. Some of the varied range of topics covered included Self-harm, CPR for children, Breastfeeding, Drink Spiking Awareness, Children's Mental health, Mammograms, Cervical screening, Ante natal care, LQGTQ+ and Sexual health and the importance of Hydration. 
As a result, the group has already received some fantastic feedback, and some are looking to take their ideas forward within their organisations. Representatives from North Lincolnshire Children's Centres and Public Health who attended the symposium are keen to work collaboratively with the students moving forward and use some of the campaigns which were presented. 
Student Hayley Knight presented her ideas and tools for highlighting and overcoming issues relating to hydration in patients. Holly Tree Lodge Care home was so impressed with Hayley's idea that they are considering implementing this in training of care home staff in future. 
Sara Brown (Module Lead) said, "Although the students are formally assessed at the symposium for their Health Promotion module, this also provides a platform where they are afforded the opportunity to showcase their work as health professionals to external health care providers and commissioners. We are extremely proud of their efforts this year and due to the success of the symposium, we now plan to facilitate a Chamber Challenge which will have a similar format to the Dragon's Den in order to consider funding some of the interventions produced for use in the public arena. Applications for the Chamber Challenge are now open." 
Anyone looking to study health at the UCNL can attend one of their next Step into Health Events throughout the coming months or attend the UCNL Open Event on 30th March 2023, 4.30pm-6.30pm.