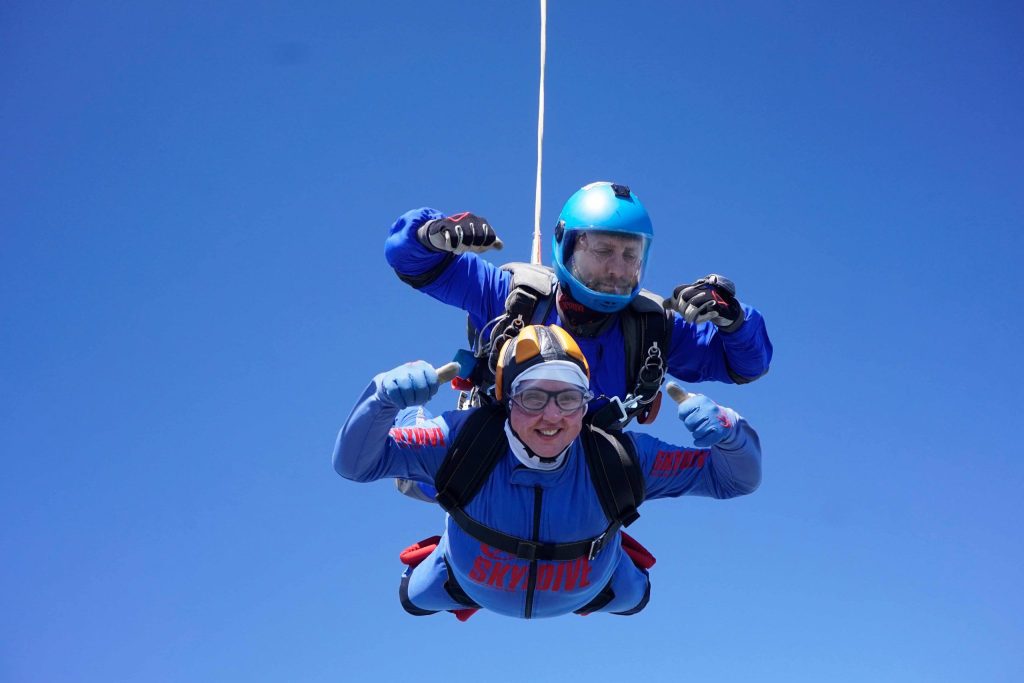 Covid restrictions finally eased to allow staff and students from the University Campus North Lincolnshire (UCNL) to take the leap and complete a skydive for a collection of charities.
The adrenaline-fuelled experience was initially planned for January 2021 but due to Covid restrictions the anticipated skydive had to be put on hold. The skydive eventually took place at Skydive Hibaldstow in May which took many months of preparation and planning.
Despite the various setbacks, the weather couldn't have been more perfect on the day for the dare devil group and the tandem skydive enabled the brave staff and students to enjoy spectacular views over North Lincolnshire.
Gillian Reid (UCNL Head of Department Health, Life and Social Science) was raising money for a project in Ghana, after previously spending a week-long trip with students from the UCNL in October 2019 in a school in Woe. The visit really touched Gillian emotionally which led to her making a promise to return, even if this meant jumping out of an aeroplane.
Gillian said: "The plan is to return to the school in Ghana to add a water pump and filter to the well in the school after watching the children pull the water up in a dirty container."
Gillian continued: "Jumping out of the aeroplane was the best bit, but strangely was the bit I was most dreading. It felt amazing and I am so happy that I have done it. I did feel sick when I was up in the plane but jumping was easier than expected and the views are amazing, I could see the Humber Bridge. You think that you wouldn't be able to see anything when you first jump but you do get chance to focus once the parachute goes up. I was really nervous, but I had to do it because of all the sponsors that I had received, and I am so pleased that I have."
The UCNL skydive enabled staff and students to raise money for other various charities, including; Scunthorpe NICU, Parkinsons and Angel Bears.